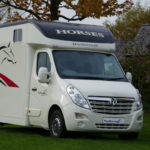 If you are looking for quality horse boxes for sale in Alderley Edge, Marlborough Horse Boxes is your one-stop-shop for horse boxes. Horses are powerful creatures that were used as draft animals before modern mechanics made vehicles. Currently, horses are mainly used for leisure riding and racing. On rare occasions, you will also see horses in farms dragging ploughs. Nonetheless, the magnificent creature has maintained its demeanour as a symbol of power and prestige. Owning a horse is not as easy as buying one and saddling up. Regular check-ups from the vet, exercise, good food, shelter and water are all part of owning and caring for a horse. Transportation is also key and that's where we come in.
Moving a horse from your home to a racecourse or a fair requires specialised horse boxes. In Alderley Edge, horse boxes for sale are in short supply. However, one company has consistently been at the top of their game to deliver quality horse boxes. Marlborough Hose Boxes is a leading name in the supply and manufacture of horse boxes. We have been in the business for over two decades with our first Renault Master conversion in 1996. Since then, we have grown into a world-class company with our market stretching across the UK into New Zealand and South Africa. We have earned a reputation for building durable, quality horse boxes and selling affordable high quality second- hand horse boxes.
From Sports to Hunters, Stud Boxes to Carriage boxes, we have a variety of horse boxes for sale in Alderley Edge. Whether you want a brand new horse box or a previously owned one, we have the best solution for you. We offer great value for money when it comes to horse boxes. Our team designs convenient and practical horse boxes that meet all your needs, plus more. The vehicles come with all the features you need to make the trip to the racecourse and back. Contact us today and we shall match you with the horse box you need. All our vehicles come serviced and with a new 12-month MOT.