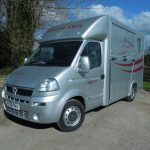 Horse Boxes for Sale in Chelford are the perfect solution if you need to transport your horses to a local competition or to an event some distance away. Owning a horse box has a number of benefits. It increases your independence in that you won't need to rely on hiring a horse box, nor will you need to ask someone to assist. It is also convenient as the horse boxes available from us have a number of extra features that make for convenience and comfort when you travel to a show or to further away.
A horse box also provides your horse with comfort during the trip.  In Chelford, horse boxes for sale are purposely designed with your horse's comfort and safety in mind. Travelling can be an extremely stressful time for your horse and it is imperative that his journey is as comfortable and safe as possible. We take our horse boxes seriously, and since 1975, we have built quality, long lasting horse boxes.  We first manufactured the Renault Master conversion in 1996, and it was later featured in the Daily Telegraph as 'Box of the Year.' We have continued with our proud tradition of designing and building only top quality horse boxes that meet our clients' needs. We are proud to say that our horse boxes are exported to South Africa, New Zealand, as well as most European countries. One of our Marlborough Hunter horse boxes was is used by one of New Zealand's leading show jumpers and one of their leading dressage riders.
Horse boxes for sale in Chelford include our used horse boxes. As a result of their long lasting quality and efficiency, our used horse boxes are very much sought after. If you are looking for quality horse boxes for sale, contact Marlborough Horse Boxes today for more information. Regardless of where you need to transport your to, we have the perfect horsebox for your needs. As we design and supply bespoke horseboxes to suit a range of needs, you are sure to find a horse box that meets the needs of horses perfectly.