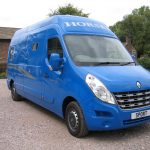 Your quest for top quality horseboxes for sale in Wilmslow ends right here. At Marlborough Horseboxes, we offer nothing but the best in terms of craftsmanship, efficiency and pricing. We have been at the forefront of this industry since 1975, and remain as passionately committed as we were more than four decades ago. Our boxes are highly prized in the equestrian community that used horseboxes command a premium price too. For customers across the UK, and in Europe, South African and New Zealand, ours is the brand of choice. A glance through our website can give you an idea of what's available for sale. We suggest that you browse through regularly, because these vehicles don't remain on the market for too long before they're snapped up.
For clients in Wilmslow, horseboxes for sale should be chosen after careful evaluation by an experienced expert. It is important that you analyse your own needs both present and potential. You may have several ponies to transport, long or short distances. Or you may need the horsebox only for occasional moves. We are regulated by the Financial Conduct Authority and an introducer appointed representative of Pegasus Finance. They work as credit brokers and not lenders and may be able to put you in touch with lenders to finance your purchase. These decisions are based on your credit rating and eligibility. We may receive a commission according to the agreements we have with various other organisations. These plans help you to purchase the right horsebox for your unique requirements.
Before you look at horseboxes for sale in Wilmslow, decide whether you will drive it yourself, or hire someone for this. January 1977 is the cut-off year to drive any vehicle up to 7.5 tons. If you got your license after this date, you are allowed to drive only up to 3.5 tons. For more such useful information, contact Marlborough Horseboxes. It is important to calculate the exact payload that you're legally allowed to carry. Once you get the unladen weight of the empty horsebox, you can add the weight of your horses, and of the extra luxuries you plan to install.