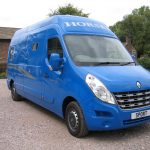 Best quality horse boxes for sale in Altrincham are found at Marlborough Horse Boxes. The name Marlborough is synonymous with durable, customisable and good-looking horse transport vehicles. We have been building our reputation since 1975; always improving and offering more options. We want the horse and driver to be safe and comfortable travelling over all road conditions. We offer loading options and the tack area can be configured to suit. Because of the amount of weight to be borne and the importance of stability, our horseboxes are built on 3.5 tonne Renault Master or Vauxhall Movano chassis. Our horseboxes hold their value. From time to time we have a few used ones available. We make sure each is dependable before we offer them for sale and they're snapped up pretty quick.
Our horseboxes are designed for the horse. We offer, in Altrincham, horse boxes for sale for Hunters, Sport and a variation on the Hunter that will accommodate carriage and horses. We have a newly designed stud box that is just the ultimate for problem horses and even young colts. It can be reconfigured for mare and foal. Our horse boxes have separate grooms door, stainless steel for horse area that is well padded with EVA rubber, floor drainage, glass windows and roof ventilators. Ramps may be electric or gas assisted and built for easy loading and unloading. The driver cab will seat two to three people in comfort and most have a window divider. For added security, our horseboxes are fitted with engine immobilisers.
When you purchase one of our Marlborough horse boxes for sale in Altrincham, consider if you need forward or rear facing boxes. Your horsebox will be fully serviced and MOT tested and you can pick it up or we can deliver it. Choose your Range Rover colour choice and we'll paint the vehicle using metallic paint and "Horses" is painted front and rear. However, if you want custom colours or designs we can arrange for it to be done at an additional cost. Contact Marlborough Horse Boxes and tell us what you need and we'll get full information out to you about the specifics, options, standards and extras.  If you're local, drop by and see what we have to offer.