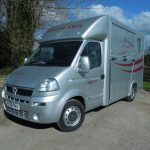 If you're looking for horse boxes for sale in Chorley, you'll be delighted to find that we offer a top-quality range to our customers. We have many years of experience in the design and manufacture of horse boxes. As such, our name has become known as the company to use for a top-quality horse box. Our horse boxes are manufactured to stand the test of time. In fact, because of this, many of our used horse boxes are available for sale. Our customers know that they can rely on the quality, durability and affordability of our horse boxes. This has resulted in many repeat customers over the years.
You likely only want the best of the best for your horses. In Chorley, horse boxes for sale should be carefully considered. Regardless of whether you need transportation for your prize jumpers or you need to transport ponies for the local gymkhana, it must be reliable and above all, safe. We're pleased to offer our range of horse boxes for sale, and all at affordable prices too. In fact, our horse boxes are popular with equestrian sport lovers all over the world. We export them to most countries in Europe, as well as New Zealand and South Africa.
Horse boxes in Chorley are carefully designed and manufactured. We se the best quality materials for the manufacture of our boxes. This ensures that our horse boxes are robust, and designed to carry your prize ponies safely and securely. For more details about our horse boxes for sale, contact Marlborough Horse Boxes today. We offer the Sport, Colt and Hunter horseboxes as well as stud and carriage boxes. Our unique horse boxes are built on a 3.5 tonne Renault Master or Vauxhall Movano chassis. Each horse box made by us is a quality made horse box. The body of the horse box has a 12-month warranty. All our new vehicles have our full warranty, currently 3 years or 100,000 miles. All vehicles have a new 12 months MOT. The vehicles are painted with metallic paint, in a colour of your choice from the available range.