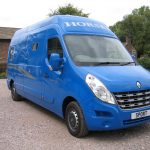 You can find the perfect horse boxes for sale in Gloucester at Marlborough Horse Boxes. Since 1975, we have been building horse boxes that are meant to last and made of the highest quality possible. The quality in our products has made it such that even our second hand boxes are retailed at high values. Our work speaks for itself, with even used horse boxes being quite sort after by many horse owners. Their durability ensures that your horse is transported safely from one destination to another, with its comfort also taken into consideration. Our horse boxes are revered both locally and internationally, with some of our clients being from New Zealand, some European countries and South Africa.
We design and supply a bespoke horse boxes to suit your individual needs. In Gloucester, horse boxes for sale are available either new in the market or as a second hand vehicle. Whatever the type, you're sure to enjoy the same level of quality that we are known for. Our aim in producing such high quality products is to ensure that even a previously owned horse box continues to last the owner for years to come. Our horse boxes have been used to transport many a horse, including prize-winning and professional horses. Our range of boxes includes the Sport, Colt and Hunter horse boxes. We also have stud and carriage boxes available. Each horse box comes with a set of features that is made known to the potential buyer so that you can decide if it'll be the perfect fit for your and your horse.
Take the personalisation to another level by requesting the horse boxes for sale in Gloucester to be painted and sign-written with your choice of colour and graphics.  If you're in the market for a viable horse box, contact Marlborough Horse Boxes today. We provide the cost beforehand upon request. Should you be unable to come for the box yourself, we can organise for a delivery to be done. Your box will be properly serviced before being handed over to you.