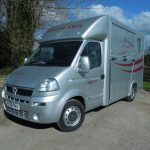 If you are looking for top-quality horse boxes for sale in Windsor, speak to Marlborough Horse Boxes. Our horse boxes are perfect for transporting horses to shows, the vet or if you need to move your steeds to a new stable. For many, horse boxes are the better choice for transporting horses as they are easier to drive and park. If you frequent shows often, horse boxes are perfect for you as they also available with living quarters for the riders or owners. This eliminates the need for looking for accommodation if you're in a new area with your horse.
Since 1975, we have earned and maintained a reputation for building horse boxes that are of the finest quality. In Windsor, horse boxes for sale are both brand new and second hand. Our second hand horse boxes are preowned and are in excellent condition. We offer our horse boxes for sale locally, but they are also sought after in countries such as New Zealand, South Africa, as well as most European countries. The first Renault Master conversion was manufactured in 1996, and we're proud to say that it was later featured in the Daily Telegraph as 'Box of the Year. Our horse boxes are available with features that are beneficial to both the horse and the owner. For example, our second-hand extended Marlborough Hunter comes with a full length partition, large horse area and two roof vents in the horse section, including a full length tack locker or wardrobe, internal lights, padded seating/extra for bed, under seating storage and 12V socket in the grooms area. Our aim is to have both you and your horse travel in comfort and safety.
If you are searching for horse boxes for sale in Windsor, contact Marlborough Horse Boxes today. We have various options available for your horse box, including paint options, delivery and other information such as MOT servicing and up-rating. If you would like more information, don't hesitate to speak to us. Choosing one of our horse boxes means choosing top quality, style and performance.